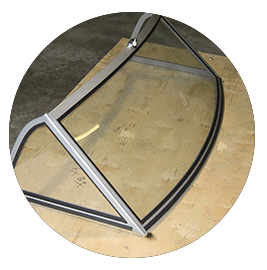 UNMF -300 SERIES ALUMINUM /LEXAN CURVE W/S




Three section [UNM-F 300 series]
The UNM-F 300 S free standing acrylic console windshield. The most common type of console windshield in any marine environment is the free standing, unframed center console windshield. Its traditional style offers unobstructed, clear, view frameless construction. It can be fabricated in almost any size and shape. It is available in many thickness ranging from 1/8'' to ½'', with the standard being ¼''. Other options include flare formed deflector top, extended wings, fire polished edges, and a wide variety of colors ( please refer to « Finishing » in our fabrication guide ). The most common applications include center console sport fishing boats, bass boats, and other small recreational boats.
Unlimited Marine Mfg Inc custom design or duplicate any OEM or after market center console windshield.
Installation for free standing acrylic windshields is relatively fast and simple. Upon request, the windshield is available with pre-drill holes and grommets. A Philips head screw-driver is all the tools required to install the windshield into the console.
The UNM-F 300M Series 3 section mechanical console windshield. The 3 section center console windshield is ideal for the center console boat owner who wants to enhance or increase the strength of the standard acrylic(fs) center console windshield.
The 300M is the lighter version of the many available designs in aluminum center console windshields. It is commonly used for small to mid-size recreational or pleasure crafts. While it is uch lighter in weight than the heavy duty 300W, it offers much more strength and versatility than the typical acrylic center console windshield.
The 300W 3 section welded console windshield. The 3 section welded center console windshield is designed for the most serious fisherman with the most demanding deep sea and commercial fishing environments. The 300W is fabricated in heavy duty. All welded T-5 aluminum and can accommodate a large area of glass. This windshield embodies exceptional strength with unusual functionality and attractiveness. The solid aluminum frame features optional built- in handrails and rod or out-rigger holders.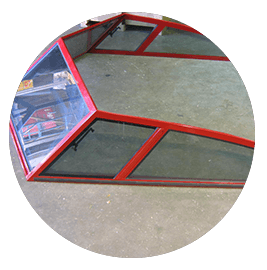 UNM-F 400 Series Windshields



Four section [400 series]
The UNM-F 400M 4 Series section mechanical windshields commonly used on open cockpit, cuddy-cabin , and walk-around style boats. The interlocking frame construction captures the glass within channeled frame extrusions, providing a firm and shock resistant mounting for the glass. The individual front and side wing sections of the windshield slide together for easy mounting.
The 400W 4 section welded windshield like its lighter duty version (the 400M) is commonly used on open cockpit, cuddy-cabin, and walk-around, sport style boats. The aluminum extrusions utilized in these frame are heavier than the 400M and fully welded in all corners to provide greater strength and durability. This windshield is also available with in hand-rails.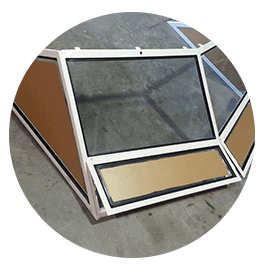 UNM-F 400 SERIES OPEN HINGED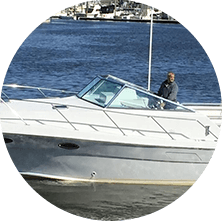 UNM-F 5-SECTION WINDSHIELD


Five section [500 series]
The UNM-F- 500M SERIES 5 section mechanical windshield. This style windshield features an opening center section (center door) which is appropriate for larger open cockpit boats or to provide a center walk-thru door giving access to the foreword deck. The 5 section walk-thru mechanical windshield has interlocking frame constriction which captures the glass within channeled frame extrusions, providing a firm and shock resistant mounting for the glass.
This style windshield comes standard with braces on both sides of the door to secure and hold the port and starboard front sections firmly in place when the door is open. The door is fitted with two rotary locks to secure it in the closed position, and a rubber tipped bumper which prevents damage to the deck or the door itself when opened.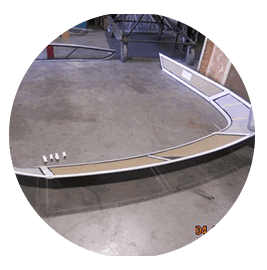 UNM-F 600 series


Six section [600 series]
The UNM-F 600FS series is available in three to nine sections. The FS (Free standing) unframed wind screens offer unobstructed clear view without frame construction. This type of wind screen fabrication has light duty inter connecting mullions that are small in profile. Each individual section should not exceed more than 12'' in height. They are fastened to the deck with screws and/or bolts. For more demanding marine environments or applications requiring larger wind screens, the 600M or W series are more appropriate.
The 630M/630W, 640M/640W, 650M/650W, 660M/660W, 670M/670W, and the680M/680W. Flybridge windshields, mechanical and welded windshields are commonly fabricated in either 3,4,5,6,7, and 8 sections. Upon special request, the much larger flybridge windshield can be fabricated in 9 sections or more. These windshields are available in mechanical and welded type fabrication. For smaller flybridge applications or limited surface areas, the 600M series offers strength without compromising size and overall appearance.
This type of flybridge windshield is commonly used on pleasure crafts up to 60 feet or flybridges with less than a 12 foot beam. For more demanding or wide beam applications we recommend the heavier duty 600W series. The 600W offers individually fully welded, framed sections that are easily mated for deck mounting installations.
Unlimited Marine Mfg can custom design or duplicate any OEM or after market Venturi style windshield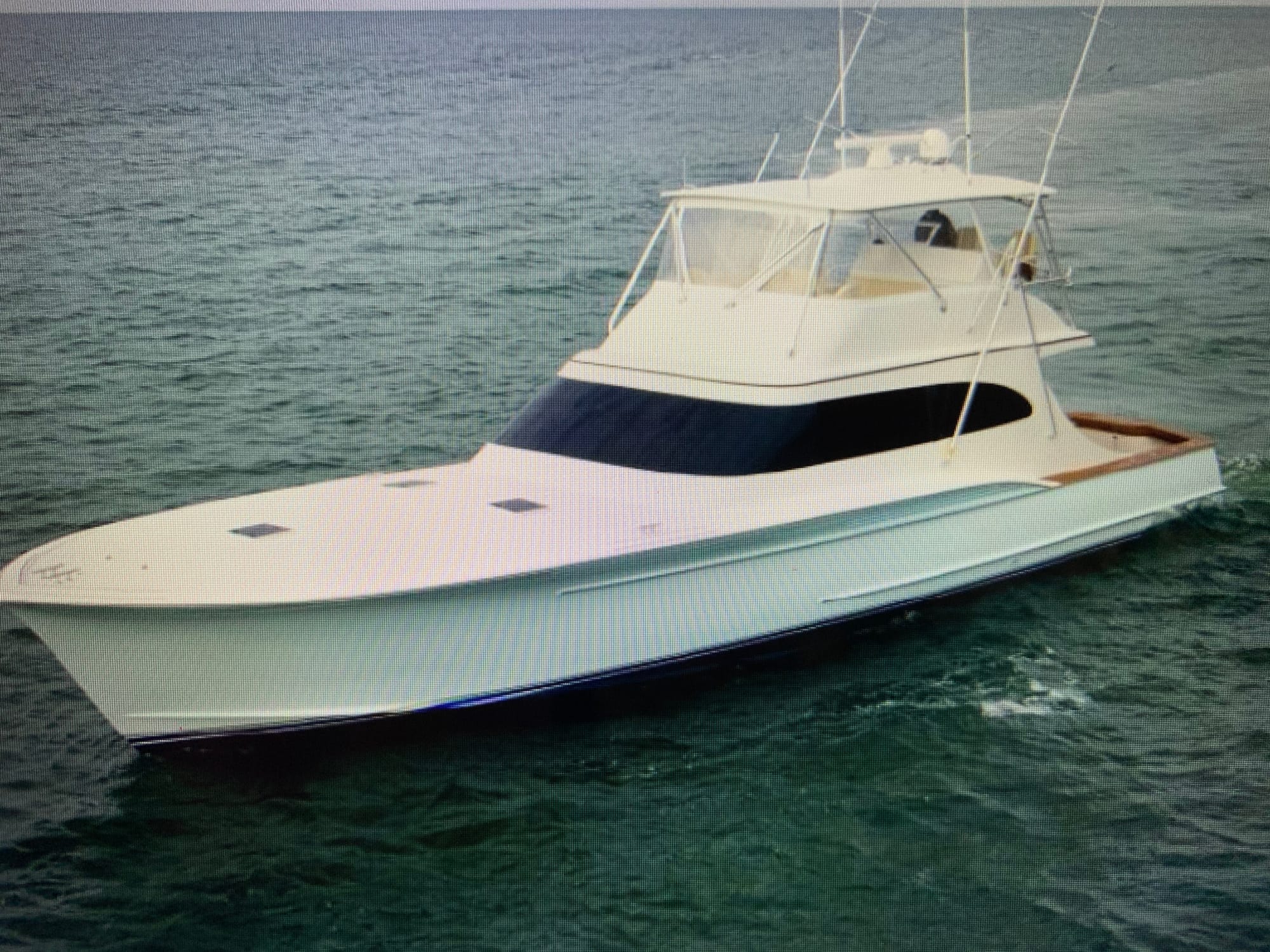 UNM-F 700 Series Windshield

Curved (Euro-style) windshields [700 series]
The Curved Euro-style windshield accent and complement modern hull styles and function, unlike standard designs. The curved style windshield greatly enhances the boat, giving it a more sleek and sexy appearance. Improved foreword and lateral visibility, contemporary appearance, and our traditional quality separate this style windshield apart from all other style windshields. Euro-style windshields are fabricated fully to specifications and/or templates.
The 700 M mechanical curved windshield Is commonly used on the smaller pleasure crafts, which does not require the added strength and size of the heavier welded frames. The lighter duty mechanical extrusions are more proportionately and aesthetically suitable for the smaller type boats The interlocking frame construction captures the glass within the channeled frame extrusions, providing a firm and shock resistant mounting for the glass.
The 700 W welded curved windshield Is commonly used on the larger pleasure crafts including race boats, which require more strength and size. The construction of the 700W curved windshield is fully welded, which provides strength and durability not found in mechanically framed windshields.
Installation:
The 700 series euro-style windshield comes standard with a base extrusion screw channel for crew through applications. After all screws are securely fastened to the deck, the channel is sealed with a vinyl screw cover for an ascetically finished look. In some applications T-bolt base extrusion is available as an alternative to screws.
Upon request, Unlimited Marine Mfg Inc can fabricate these style windshields with a wire channel option in the top header extraction. Wire channels are appropriate for applications that require the routing of wires for wiper motors and other electrical equipment.
ALL OUR WINDSHIELDS ARE POWDERCOATED TO YOUR CHOICE OF FRAME COLORS, WE IN POWDERCOAT CAN DUPLICATE AWLGRIP COLORS.